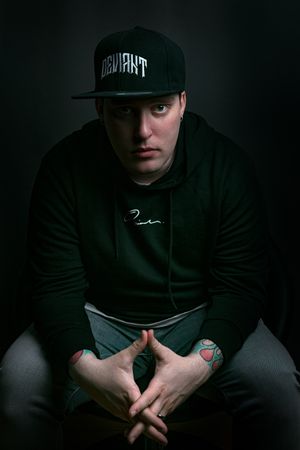 Kenio Gustavsson is a songwriter, performer, record producer, film composer, visual artist, and entrepreneur with a PBAE in innovation and entrepreneurship from University College Lillebælt. He is best known as former co-lead vocalist for Walking Rumor, rock band from Denmark, who has reached over 500 thousand streams on Spotify alone, 90 thousand views on YouTube and directs a still growing fanbase worldwide. Kenio is the founding member of the group, which achieved ranking third place in People's Choice at the Global Battle of the Bands 2016 show in Berlin, band of the month for 6 months in a row on the Royal Beer 'Tak Rock' site, toured Europe with the legendary Latin-American band Ill Niño as well as playing shows with Crazy Town, Carpark North, LUCER, Junkyard Drive and many more. 

"I have played rock for almost half my life, so I felt it was time to try something else. I tend to do rap vocals in Walking Rumor, so I wanted to see if I could test myself in that genre. I'm exposing myself a lot on this coming album, and I think it's the first time, ever, that I've really spoken freely." - Kenio 

During 2021, Kenio released his own solo project named 'This is Me' under his own label Beneath the Music. The album is produced by Kenio and co-produced by Christian Agaton M. at Mørkværk Studios. Mix/Mastered by Anders Christiansen.
Genre
Rap / Metal
Location
Denmark
Music on Spotify
Kenio's former band (Walking Rumor)


Music Video
Solo Project

Kenio's former band (Walking Rumor)
Booking
BOOK NOW