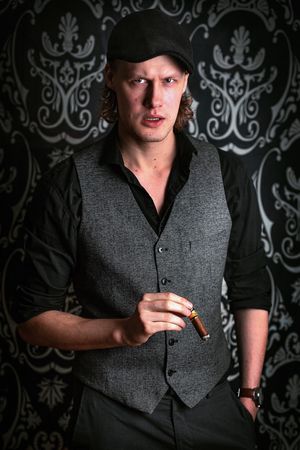 In his mission to represent both the new and the old, rap artist Johnas-K creates something completely unique. At a time when we are now moving in static elements, Johnas-K breaks the rhythm with organic inspiration on his upcoming album "Old Men in New Cars". 
With classic sound, mixed with the new killer beats, Johnas-K raps about everyday oppression with a glimmer of humor. 
"'Old Men in New Cars' represent an old soul who is forced to look at the world with new glasses. It's about identity, self-knowledge and creating a foundation for who I am in the future as an artist."- explains Jonas Kyed. 
Johnas-K comes from a musical upbringing with artists such as Suspect, L.O.C. and Pervers. Which has inspired Johnas-K to write music that has helped him process an otherwise tough upbringing. "Old Men in New Cars" contains 6 songs, each representing their own story. Recorded in Mørkværk Studios, produced by Christian Agaton and Kenio Gustavsson, mixed by Anders Christiansen and a proud member of the Beneath the Music family.
Genre
Rap/Hip-Hop
Location
Denmark
Music Video
Booking
BOOK NOW
.